Getting ready to serve during a tennis match is Sienna Douglas, jr. "I feel that league was one of our best performances as a team and the results really reflect that. Regionals is our next big challenge and I cannot wait to see how the team's hard work has paid off," said Douglas. Varsity girls tennis team placed 3rd at the AVCTL Division 3/4, and JV placed 2nd. The tennis team heads to regionals Saturday, October 9. Caption Credit: b.blick-neal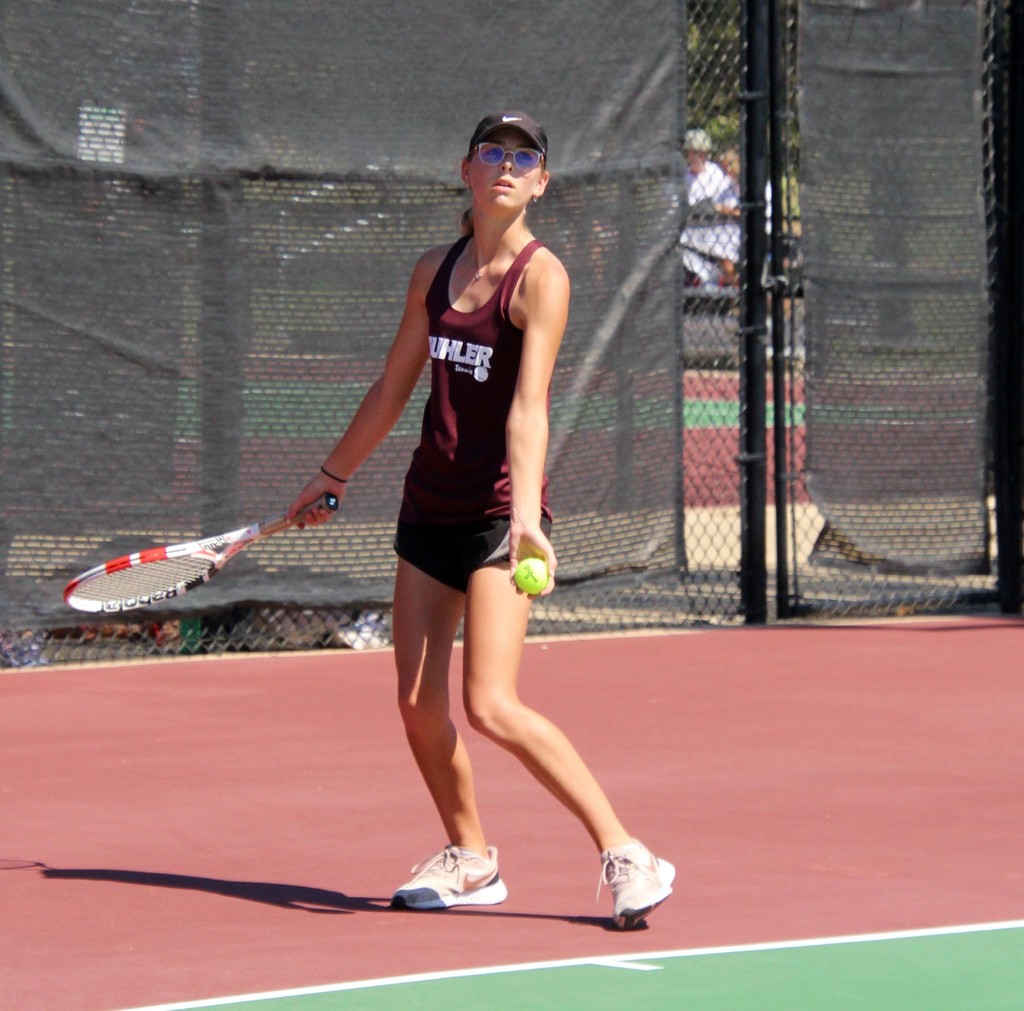 Last year, Ad Astra Radio presented an opportunity for students to begin covering activities and sports at school. We are also using this opportunity to showcase photos from the journalism department. This is an amazing opportunity for students. After a few weeks of organizing student writers, we are so excited to see their writing published. This is the second article that student writer Wyatt Carlin has written for Ad Astra. You can find it on their Facebook website or at
https://www.adastraradio.com/buhler-football-takes-augusta-by-storm-sets-up-league-showdown-with-mcpherson

Today, the BHS Marching Band heads to Emporia to kick-off their competition season! The band will perform this Friday during halftime of the Buhler vs. McPherson football game!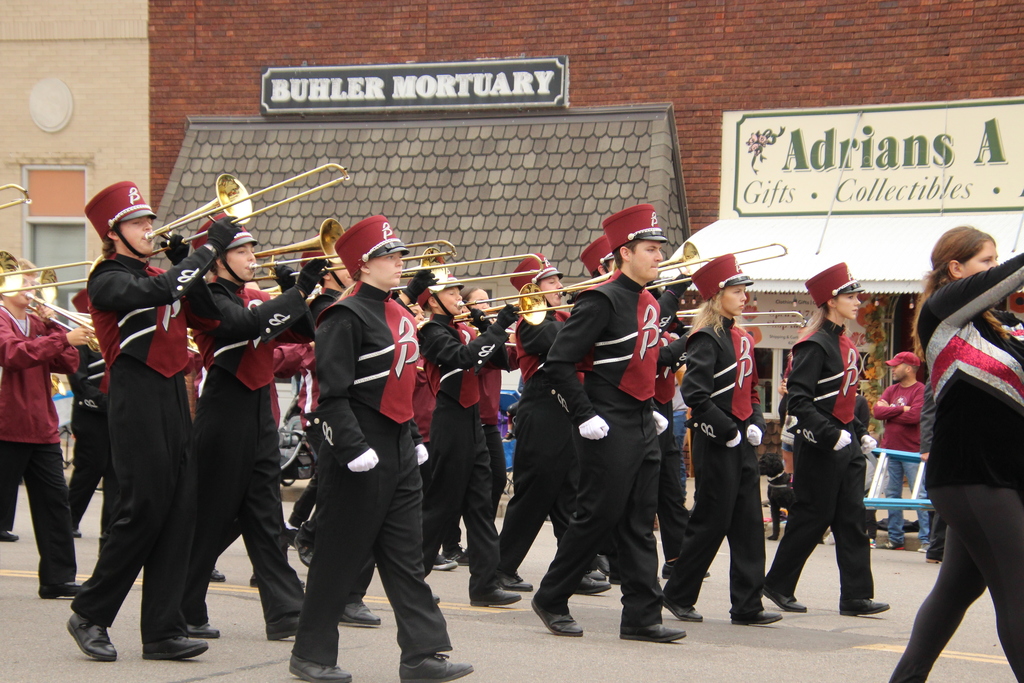 Join the Buhler Public Library for a Read-a-Thon! See the image for details. #Better Together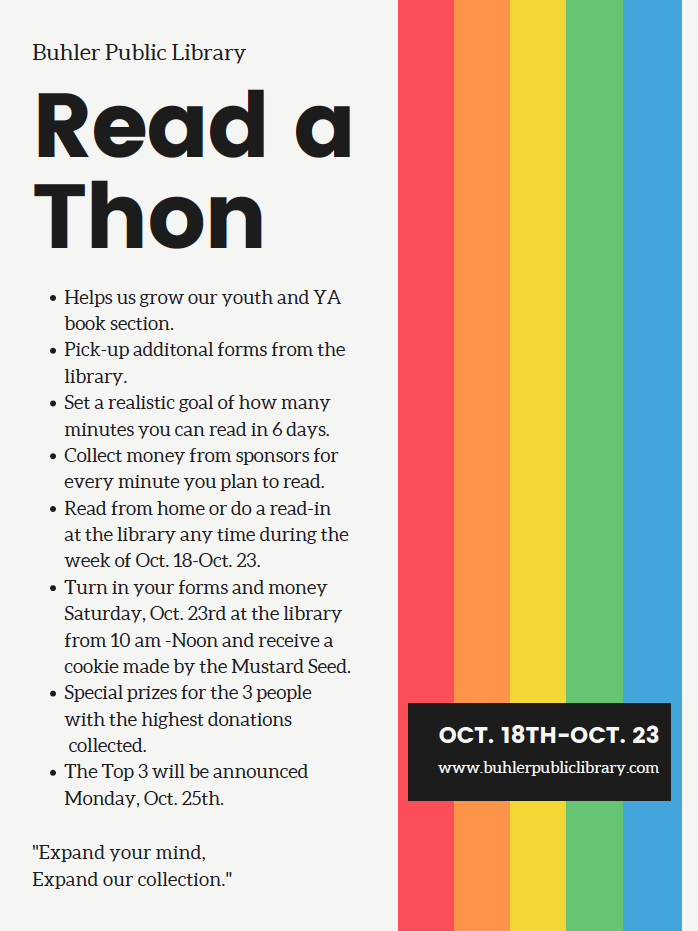 Dribbling the soccer ball toward the goal in the game against Rose Hill last Thursday is sophomore Jaylen Cherry. The varsity soccer team defeating Rose Hill in a 1-0 victory. The Crusader Men's Soccer Team plays at home at Crusader Stadium this Thursday, Oct. 7 @ 5:00 (JV) and 6:30 (V).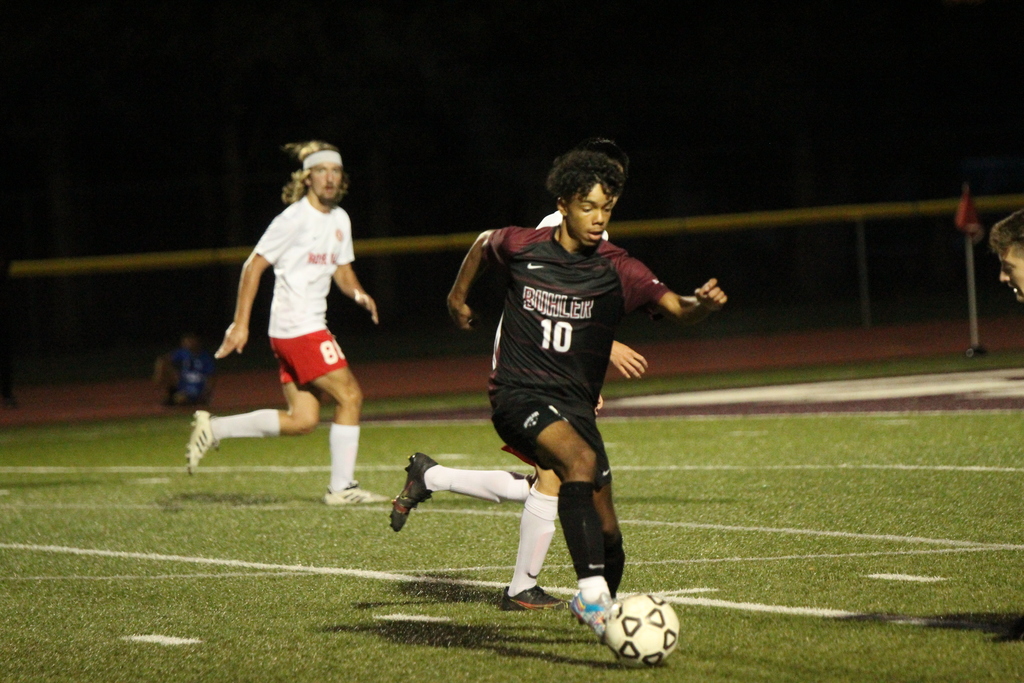 Come find us at the Eagle Communications Soar Hire Job Fair today at the Hutchinson Mall!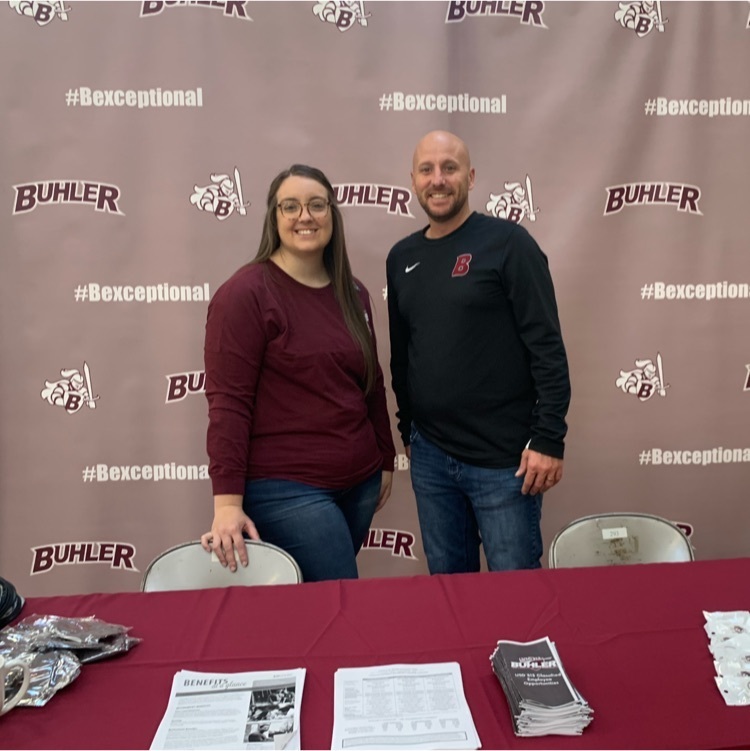 One of the most wonderful things about our Buhler school community is the support and partnership we have with our families. As educators, we need your help to speak with your students regarding the latest TikTok trend. Last month, our schools had some damage done to bathrooms from the September challenge. Our priority is to keep students and staff safe in all situations and have pride in our school and community. Several of the challenges are criminal and could be prosecuted. Please talk to your student about these and the consequences of participating. We are thankful for our awesome students and families. I have confidence that through proactive communication and support, our staff and students can continue to excel in a safe learning environment. Information on challenges:
https://www.distractify.com/p/tiktok-school-challenges-list-2021
Cindy Couchman, Superintendent Buhler Schools

Dissecting a fetal pig in Mrs. Whisler's Anatomy and Physiology class is Paige Roberts, jr and Emilie Schweizer, jr. "They did a good job on the dissection. It always seems to be a highlight - a fun lab." says Whisler. The students were to see how all the systems and body parts are connected and to observe the tissues and organs they had learned about previously in class. Caption Credit: r. morris Photo Credit: h. redinger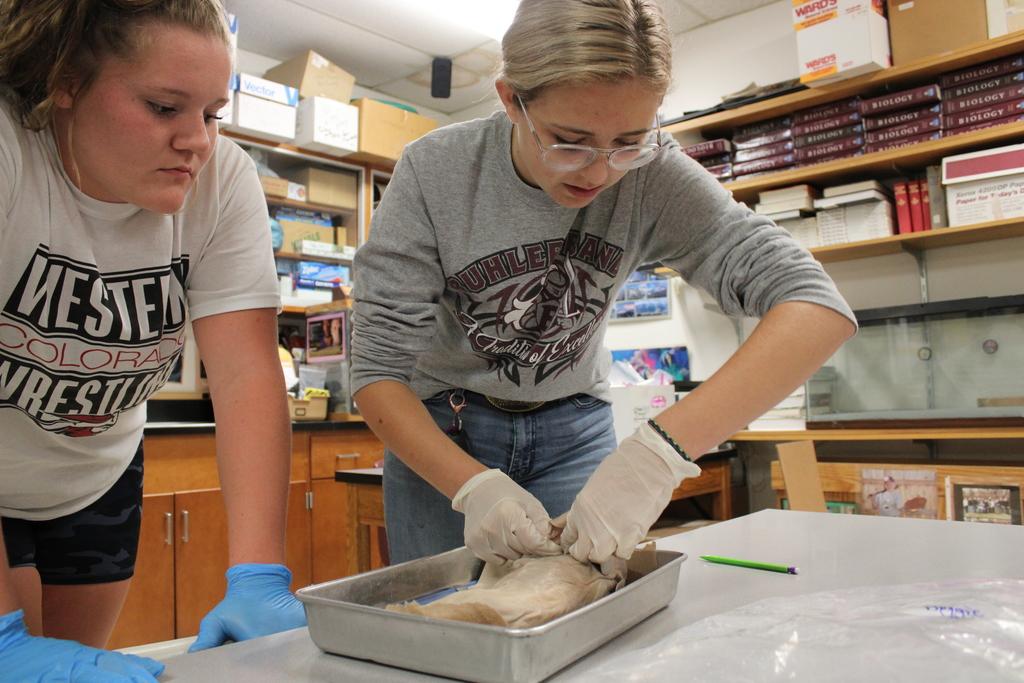 Congratulations to the 2021 Buhler High School Fall Homecoming King and Queen! Smiling for a photo on the football field is, Abigail Yutzy, sr. Ayden Wyer, sr. Jett Seuser and Madilyn Konrade. "A lot of my family members that I don't get to see on a daily basis were there supporting me, which is very special to me." said Wyer. When she was asked how she felt about being Homecoming Queen, Yutzy said,"I felt beyond thankful for the experience and everyone who made it special. I was shocked when I heard my name but I was overwhelmed with happiness." Caption Credit: b.blick-neal Photo Credit: d.reed

Running with the ball in the freshman football game against Winfield is Brendan Scripsick fr. "I am proud of how we played for the first couple of games this season. We do have a lot to work on and improve on but I think it will be a good season for us," Scripsick said. The freshman football team plays at home again on Mon., Oct. 11 at 4:30. Caption Credit: A. Devena Photo Credit: D. Reed

Performing at the Kansas State Fair with the Buhler Singers is Camri Coker, jr. The Buhler Singers performed very well as a group. They continue working on their performance as well as practicing for the upcoming musical Mamma Mia! on November 11, 13 and 14. Stay tuned for showtimes and ticket information. Caption Credit: b.blick-neal Photo Credit: d.reed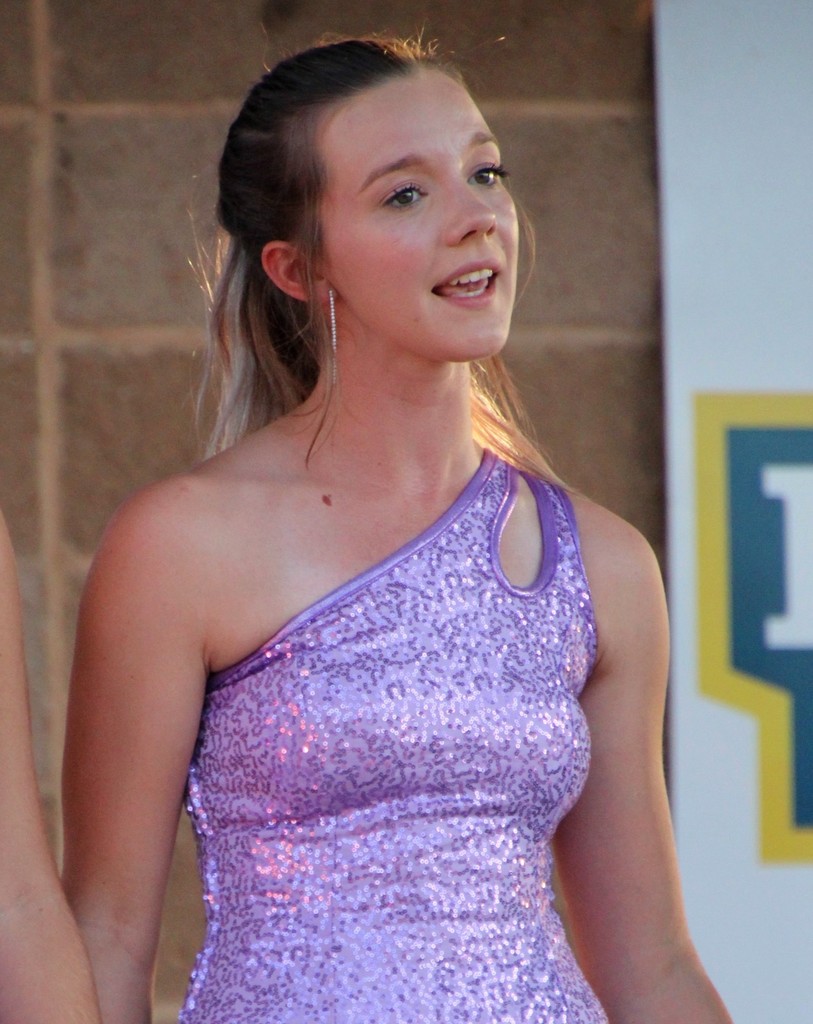 Two of our teachers; Rachel Harder, 4th grade at Union Valley and Greg Froese, ELA at BHS, are spending the day learning with fellow state teacher of the year nominees today. These two teachers have represented our district so well and we are thankful for such great teacher leaders! #Bexceptional

We are partnering with the Reno County Health Department to offer flu shot clinics in our buildings. See the image for details and download the form that is needed here:
https://bit.ly/3ubmD8w
#BetterTogether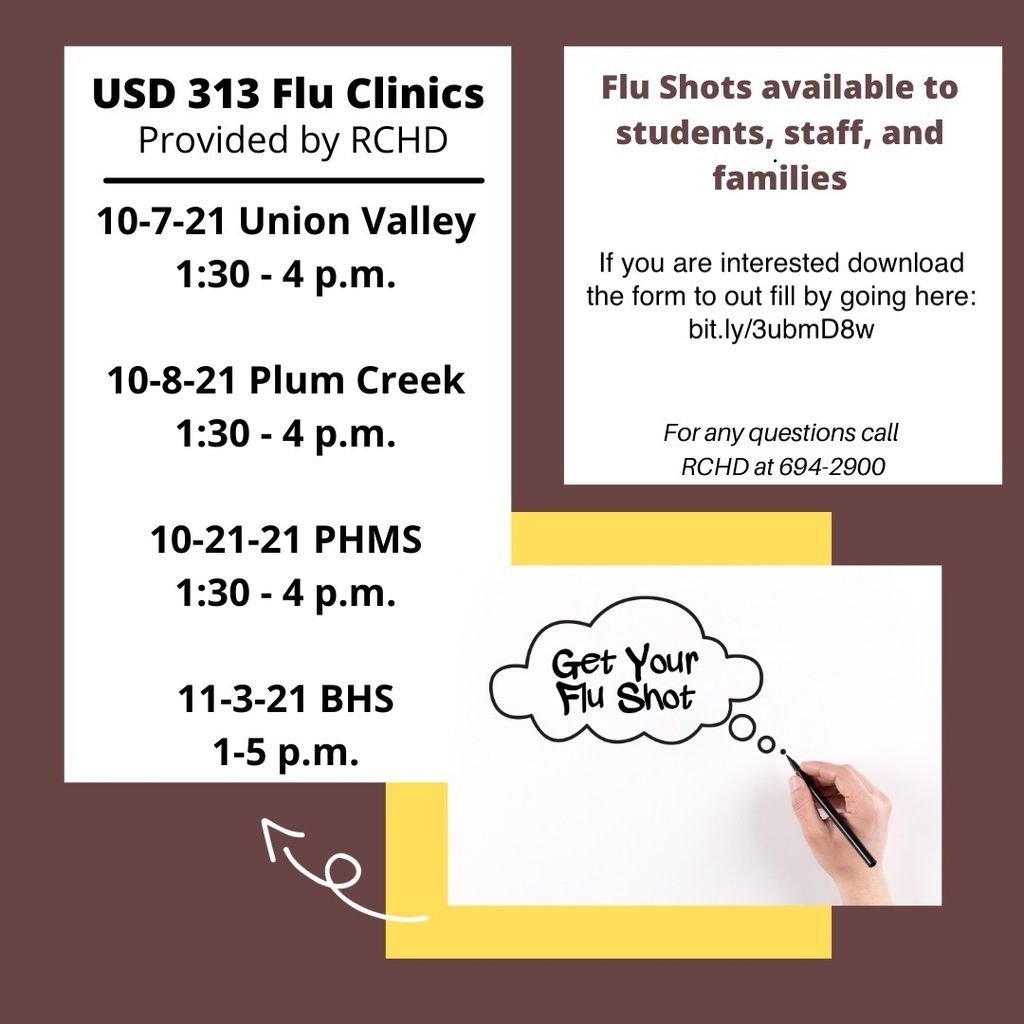 Taking the field to perform their show "Ripple Effect" this Friday night at the BHS Homecoming game is the Buhler Marching Band. Performance time is BEFORE the game at 6:35. Their first contest is quickly approaching. Stay tuned as the BHS Marching Band heads to Emporia on October 6.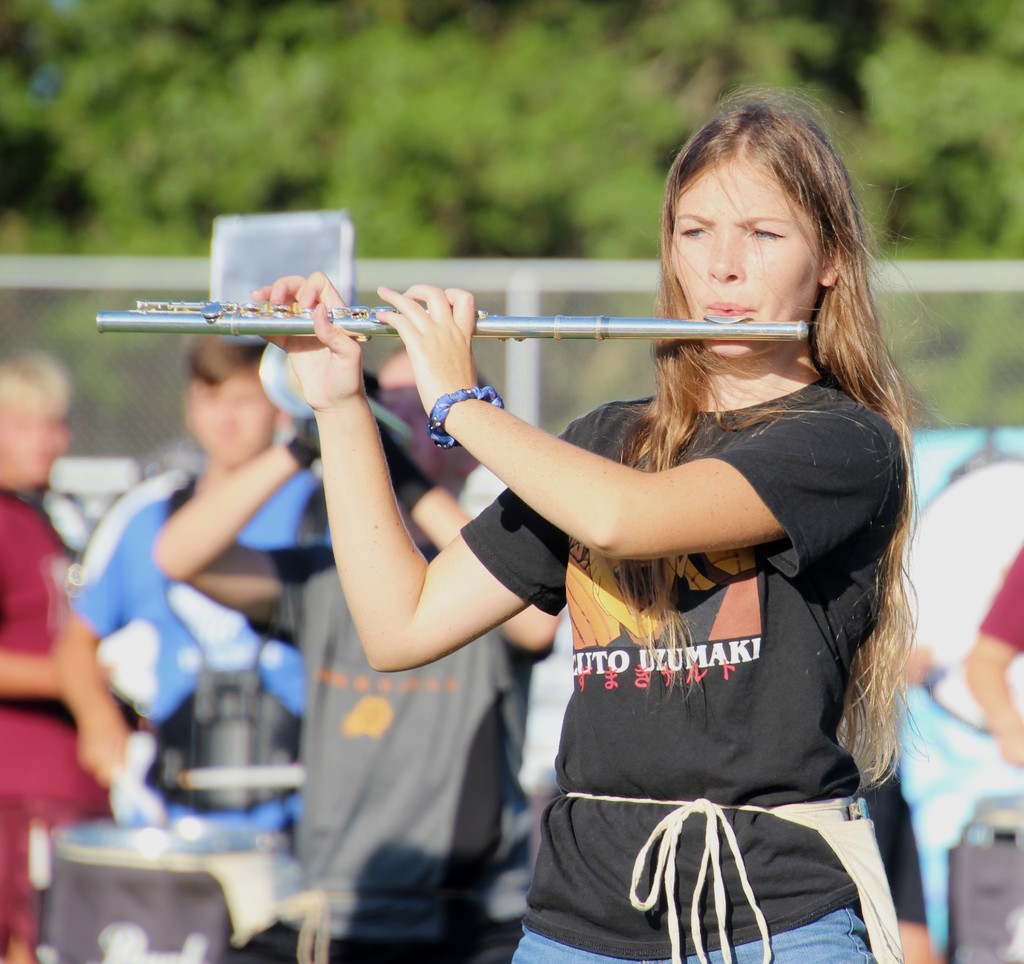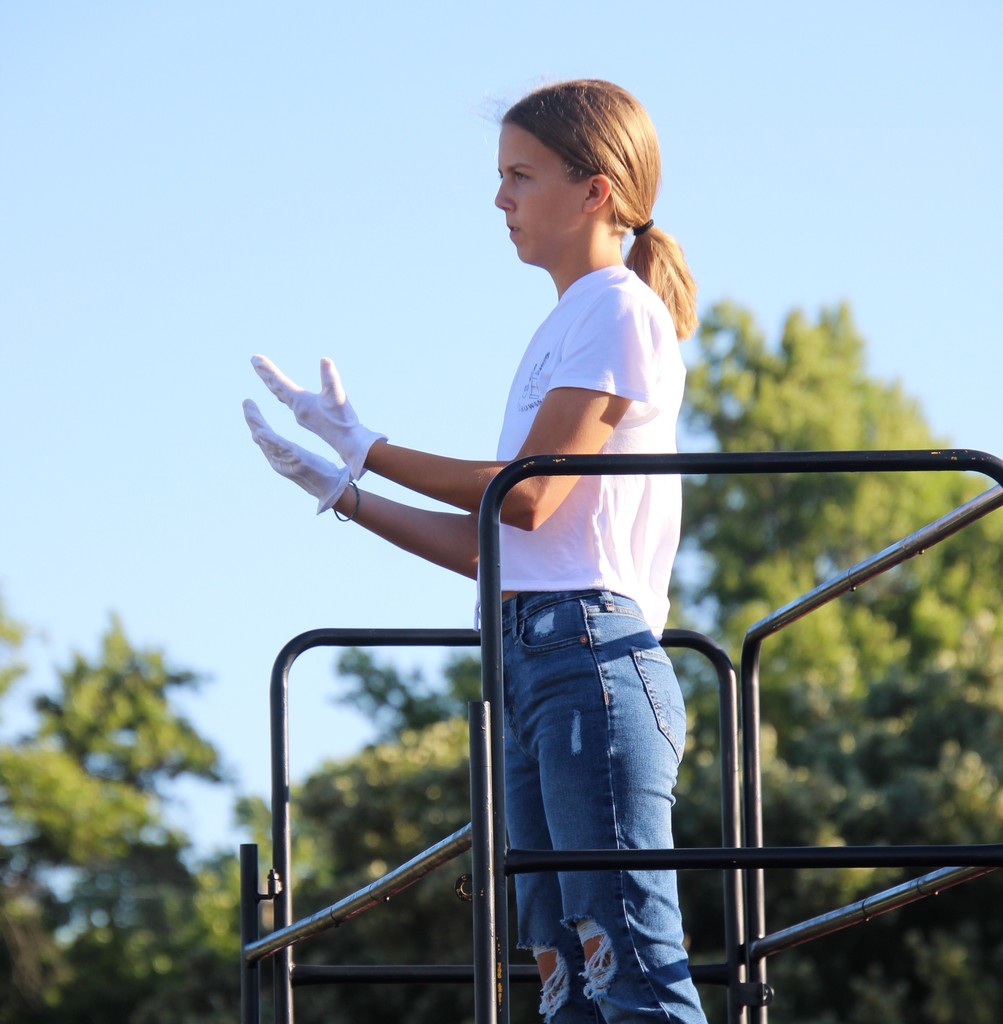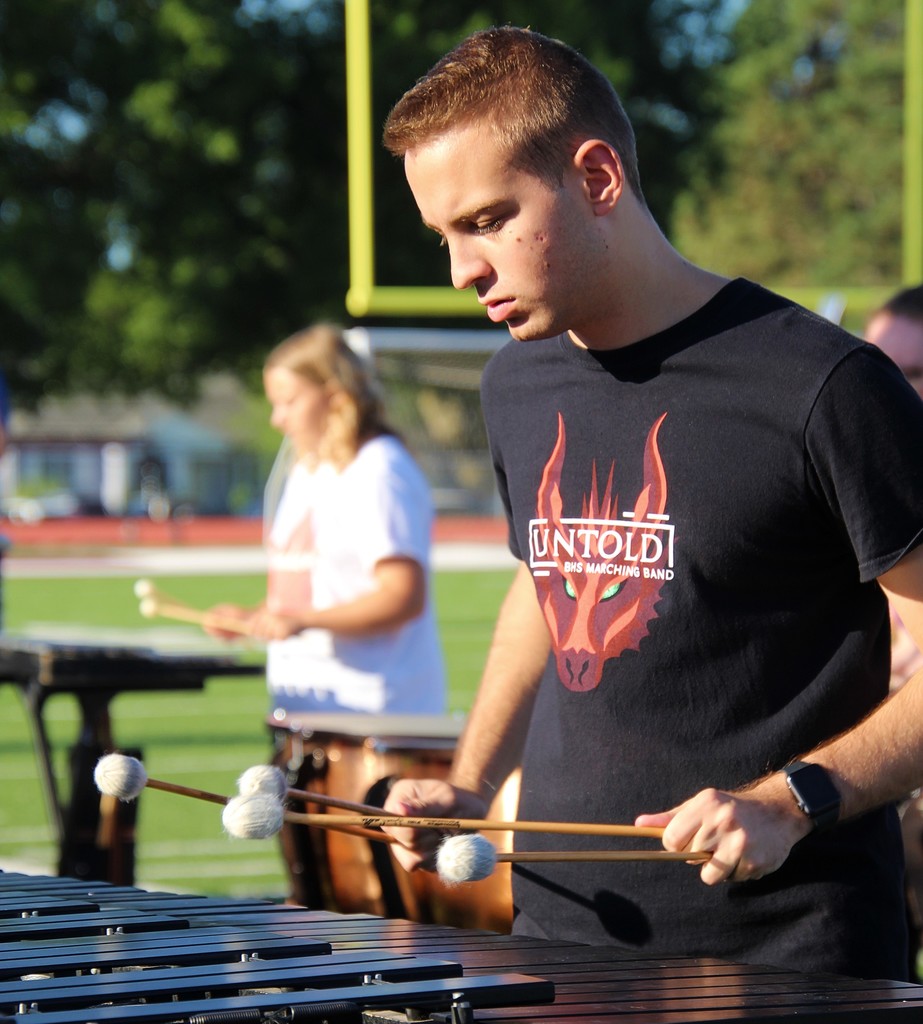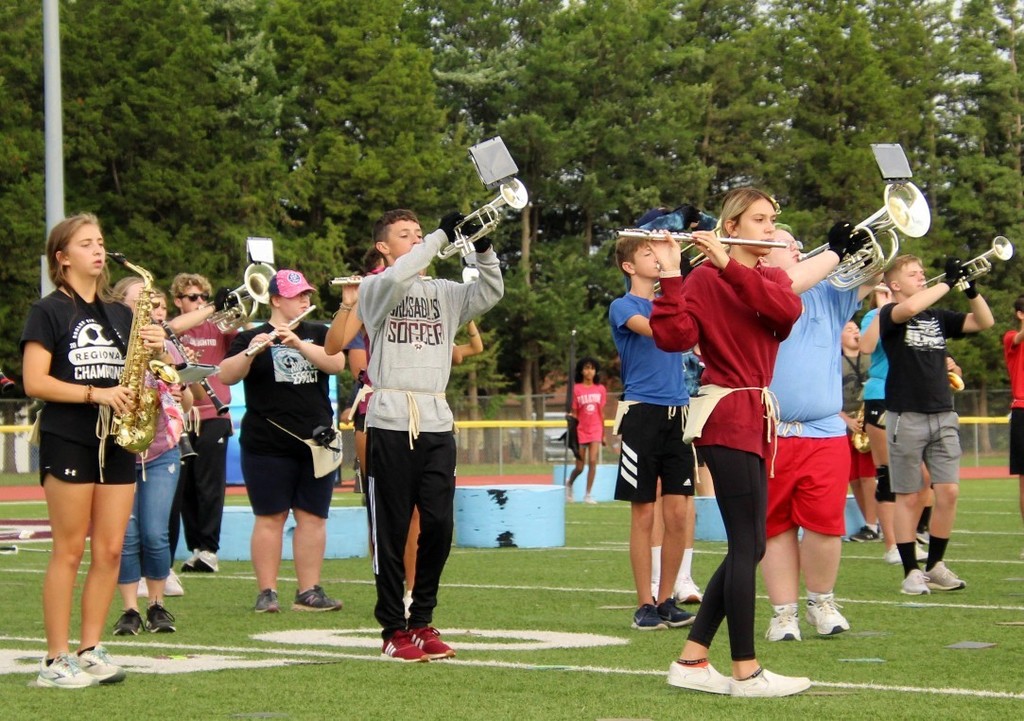 Rehearsing for their upcoming Kansas State Fair performance are members of the Buhler Singers. "This year's show is based around Motown music," said Greg Bontrager, BHS Choral Music Director. This 40-minute show features a capella and 60s show choir music, as well as songs from the musical Hairspray. The Buhler Singers will perform from 6:00-7:00 pm at the Peoples Bank & Trust Arena TODAY Wednesday, September 15th. Caption Credit: BHS Introduction to Journalism Class Photo Credit: s.neill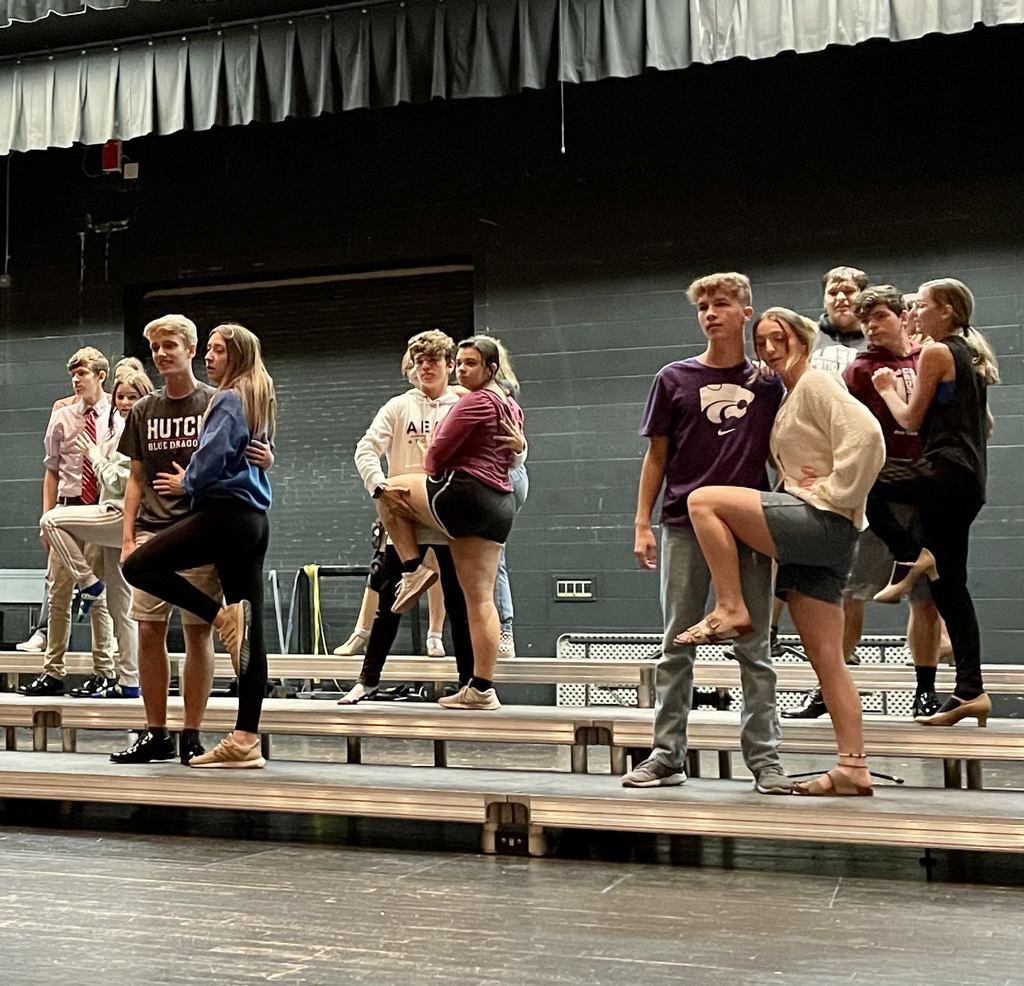 Tackling his opponent in the JV football game Monday night at Crusader Stadium is defender Bryce Ruda. The JV Crusader Football team beat Andover Central 26-14. Stay tuned to BHS Football this Friday as the varsity Crusaders travel to Winfield. Game time at 7:00. Follow along on Ad Astra Radio KWHK 95.9 or on the Crusader Sports Network live stream on Youtube.com. Photo credit: t. sheridan

Parents: Please check your email regarding permissions/preferences for COVID testing and quarantining information should your student be identified as a close contact in the future. Please fill out the form ASAP. #BetterTogether Cindy Couchman, Superintendent, Buhler Schools